Paradox Coffeeshop
& Cake Specialist
Open Daily 11am to 8pm
In a picturesque neighbourhood, in the centre of the Jordaan you will find the warm heart of Amsterdam
Dear customer, our hours of business are
DAILY 11:00–20:00
Thank you for your business!

Smoker Friendly
Although you cannot consume tobacco, you can still smoke inside. We also provide a tobacco-free alternative for you to use should you wish

Great Coffee
The best coffee is made with love. You can be sure our baristas will fix you an awesome brew

awesome tea
We have a wide selection of teas available. From Strong Black Tea to subtle Fruit Teas

Sodas & Juices
If you need a sugar kick we can hit you up with a soda or one of our bottled juices
Paradox Coffeeshop, your hideaway in the Dam!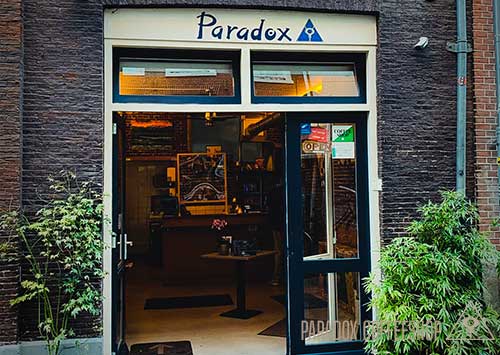 Known for its beautiful houses, nice restaurants and original shops, it is a must to stroll through the little streets and canals. On the many bridges over the canals, you can take beautiful pictures and see why Amsterdam is called the Venice of the North. Our shop is often visited by a friendly mix of locals and tourists.
Paradox Coffeeshop is an easy place in an ambient, friendly and artistic environment, where you can sit back and relax or have a nice conversation, we also have board games you can play. Many local and international artists make our place their home, creativity and inspiration hangs on the walls and buzzes in the air.
It's a nice place to hang out, away from the hustle and bustle of Amsterdam, but close enough to fall right back in.
We serve a great cup of Dutch coffee, a variety of teas and cold beverages.
Read more about us here
We look forward to welcoming you!
FAQs
Are amsterdam coffeeshops open?
Yes, coffeeshops in Amsterdam are open.
Are coffee shops in Amsterdam open to tourists?
Yes, Coffee shops in Amsterdam are open to tourists.
Can I open a coffeeshop in Amsterdam?
Most likely not. The local council no longer gives out licenses for new coffeeshops.
Can you smoke tobacco in Amsterdam coffee shops?
No, you can't smoke tobacco indoors in the E.U. however there are usually good, natural alternatives available at the counter, just ask
What are coffee shops Amsterdam
Coffeeshops are establishments where the sale of cannabis for personal consumption by the public is tolerated by the local authorities. Coffeeshops may also sell coffee, tea and sometimes even space cake
space cake or smoking
Two very different expereiences. Smoking is an immediate hit. Eating may take a few hours, so don't underestimate their strength